PHYSICAL MANIFESTATION OF THE INTERNET OF THINGS FOR DESIGNERS AND MARKETERS NOT ENGINEERS.
What is the IoT Innovation Kit?
Overview
The Store WPP IoT Innovation Kit enables agencies and brands to get the most out of the available IoT technology to create unique retail and shopper experiences.
Its simplicity provides freedom to innovate, prototype and build faster, combine and customize experiences and successfully deploy them at scale, rather than get bogged down in technical complexity.
The various use cases can be built in around 15 minutes to an hour and a half.
What can I build with the IoT Innovation Kit?
Help consumer navigate and explore complex retail spaces with beacons
SCENARIO:
This app will help customers navigate to products within a store and utilize beacon points to discover their location. It uses Bluetooth beacons to show the customer's position on an illustrated map representing the store. Once they have found a section of the store or a particular product, the app can automatically display specific information.
Build customer knowledge about the product and enable discovery through NFC and Touchcode cards
SCENARIO:
Deliver customers easy, self-service options to discover and learn about products and services.  Enable users to scan packaging, signs and tags, using NFC tags and Touchcode cards. This provides them access to detailed product information such as reviews, pricing, dimensions or shipping options – delivered right to their phone.
Drive repeat purchases with real-time offers via mobile commerce
SCENARIO:
Drive repeat purchases and enrich the shopping experience by presenting customers with relevant promotions and offers, and media-rich product information delivered to their smartphone. Show customers weekly deals, coupons and special offers as they walk around the store. Help navigate customers to the product so they can add it to their virtual shopping cart.
Attract and engage consumers with a fun multi-media, gesture-controlled kiosk.
SCENARIO:
Enable customers to browse product information using hand gestures on a kiosk or large display screen with a RealSense camera. Play audio to prompt interaction and use voice and gesture recognition to navigate multimedia content without touching the screen. Browse product information, images and videos. Record consumer emotional response and demographics for later analysis.
Equip products with a smart sensor to track and identify the location of consumers' most valued possessions.
SCENARIO:
Track lost or stolen property such as a bag, keys, laptop, jacket, suitcase, designer purse, or child's backpack by creating an IoT wearable. Use an app to set off an alarm sound to help you find your bag or keys. Customize security settings to send alerts when a suitcase or bag is being tampered with or it moves from its expected location.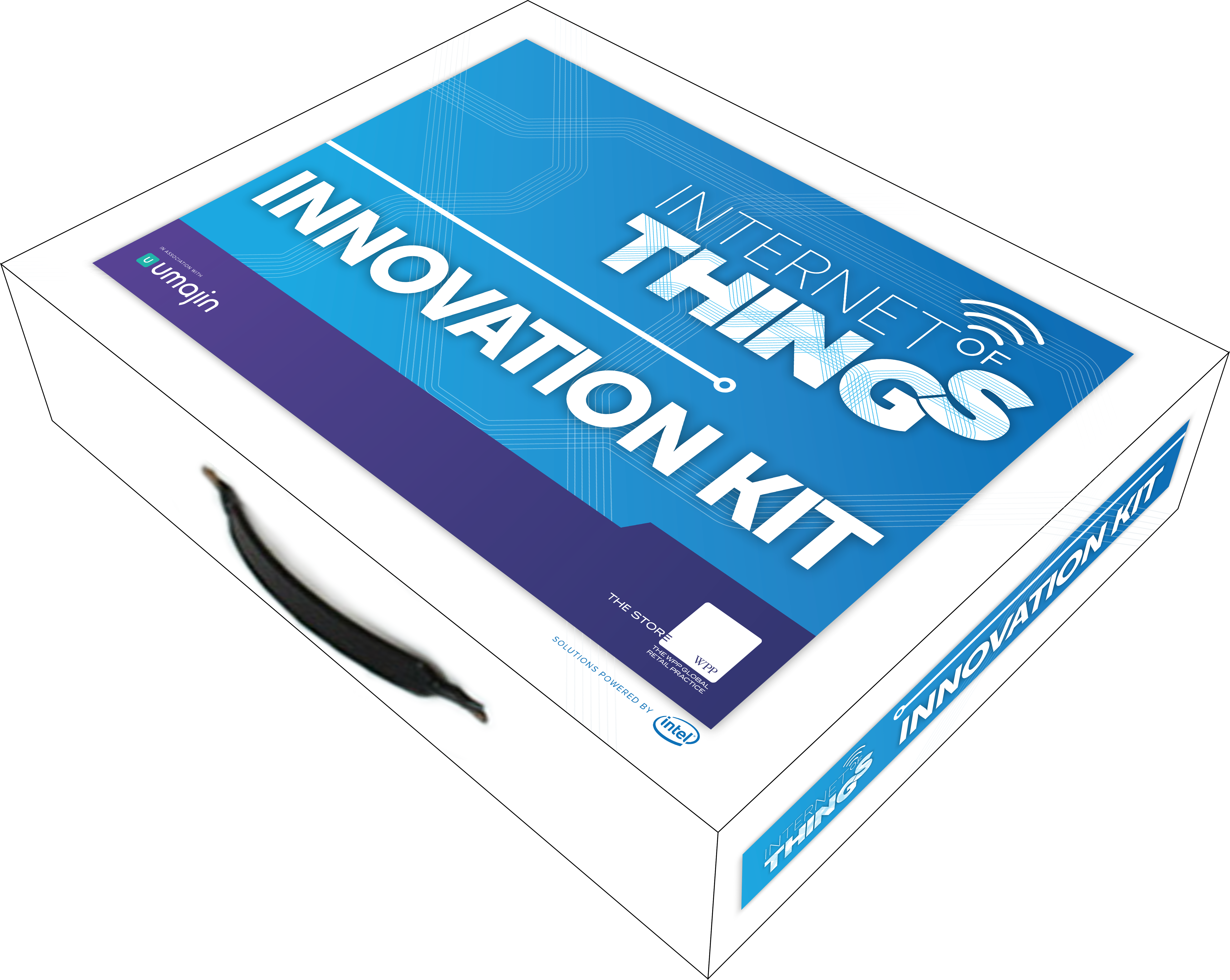 Use Cases Cheat Sheet Download
IoT Innovation Kit : Use Cases Cheat Sheet